Tyler Pipe & Coupling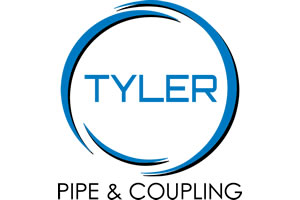 Location: Tyler, Texas
Address: 11910 County Road 492
Tyler, TX 75706
Phone: 800-527-8478
Employees: 434
Founded: 1935
Acquired: 1995
Capital Improvements: $117.7 million since 1997
Major EHS Successes: Installed cooling tower to aid in efficient recycling of waste water and minimized additional generation of waste water.
Environmental Sustainability: Recycled 50,000 tons of scrap iron into finished products; and 7,632 tons of sand for beneficial reuse in 2010
About Tyler Pipe & Coupling
Tyler Pipe was named after our home base in Tyler, Texas. From our inception in the mid-1930s as the country was coming out of the Great Depression and experiencing economic recovery, Tyler was able to adapt to industry change. This resilience is the driving force behind the Tyler of today.
Tyler continued to pioneer new technologies and was the first company to migrate from manual to mechanized production. The first mechanized pipe machine, that duplicated manual production sequences, produced enough five-foot pipe to span the earth four times over. Tyler continued to design and develop machines and products to meet the ever changing needs of the customer. In 1959, Tyler introduced the first 10-foot length of cast iron soil pipe. In 1964, Tyler Pipe started manufacturing cast iron no hub pipe and fittings. In 1979, Tyler sold their 100-millionth Tyler Ty-Seal compression gasket. In 1986, Tyler Pipe began production of its own no hub couplings and gaskets.
Solving problems creatively has been the Tyler way since its inception. The company has been a growth operation and attributes this to development factors and management's alertness to the needs of the buyers and users. From the start, the Company positioned itself to serve the plumber through conventional distribution channels.
Our iron foundry is located in Tyler, Texas and coupling and gasket manufacturing facility in Marshfield, Missouri. We have distribution centers in: City of Industry, California and Oakland, California as well as Macungie, Pennsylvania. This wide-reaching footprint allows us to serve a variety of customers that span nearly the entire country. Whether you are located on the east coast, the west coast or somewhere in between, Tyler Pipe & Coupling can get your job done. We maintain these facilities with extensive safety precautions and environmental regulations. This has allowed us to create a working environment where positive change is generated for our workers and the communities in which they live.
Tyler produces a wide variety of high-quality products. Every Tyler pipe and fitting, coupling and gasket is designed to meet industry standards – often exceeding these standards. Whether it's the no-hub cast iron soil pipe or the hub and spigot gaskets, each of our products meets the stringent requirements set by the American Society for Testing and Materials. This gives us the confidence to tell our customers that when they get Tyler, they're getting the best.  That's Tyler Tough.
Tyler Pipe and Tyler Coupling is owned by McWane Inc., a privately held family company located in Birmingham Alabama.
Awards and Recognition
As an industry leader for many years, we have a long history of positive recognition from both our peers and our customers. You can see our complete list of awards and accolades displayed below.
2011 Screaming Eagle Award: McWane EHS Excellence - Tyler Coupling

Tyler Coupling is awarded the 2011 McWane Screaming Eagle Award

This is a joint award for Environmental and Safety & Health Excellence. The top three performers in the Outstanding HS Performance award are submitted to the Environmental Group, who also determines their top three performing facilities. From this list of top contenders, the facility with the overall best EHS performance in the company is selected for the award.

ISO 14001:2004

In 2009, Tyler Coupling received ISO 14001:2004 certification.

AFS Millionaires Safety Award

Tyler Pipe was awarded the AFS Millionaires Safety Award for achieving 1,000,000 man-hours without incurring an occupational injury or illness resulting in days away from work.

Tyler Pipe Marshfield Team Wins Star of Excellence Award

Tyler Pipe Marshfield was presented with the Star of Excellence Award for their 2013 accomplishments at the recent Region II VPP Conference held in Omaha, Nebraska.