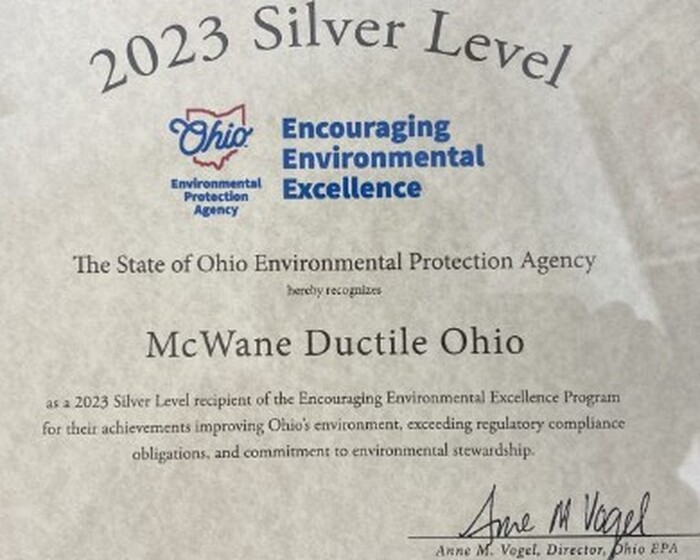 McWane Ductile Ohio was recognized by the Ohio Environmental Protection Agency with a Silver Encouraging Environmental Excellence Award. The award recognizes the facility's participation in the Keep it Clean Challenge and implementation of energy efficiency upgrades, including purchasing regenerative burners, installing LED lighting, and using variable efficiency drives. The facility is the only Coshocton business to earn an award this year.

"The award shows that our facility has a strong commitment to environmental compliance and continuous improvement," McWane Ductile Ohio Environmental Manager Beth Mullen said. "We're proud of the community we're in and were committed to being a good member in our community, doing things the right way, not settling for doing things at a level of compliance, but always striving to get better."

According to the Ohio EPA, the Encouraging Environmental Excellence awards recognize an organization's exceptional achievements in environmental stewardship. The goal of environmental stewardship is to reduce the impact of business or organizational activities on the environment beyond measures required by any permit or rule, producing a better environment, conserving natural resources, and resulting in long-term economic benefits. The judging criteria includes 15 aspects of environmental stewardship, including sustainable materials and purchasing, pollution prevention, energy efficiency and employee involvement.

"Ohio is the heart of sustainability, and we're committed to recognizing those at the forefront of innovation and stewardship," said Ohio EPA Director Anne M. Vogel. "We're excited to reward companies that are helping children grow up in a safe environment and partnering to support the communities they call home. Their work inspires all of us to do more, and we are proud to share in their success."

Read more about the win in the Coshocton Beacon Today or the EPA website. Congratulations McWane Ductile!